Close more deals by becoming your community's  Trusted Advisor
Ambassador
Connector
Champion
Go-To Expert
Show your appreciation while helping their business using our proprietary process. This creates strong relationships, and an owner yearning to return the favor.
Every local business owner has a great, yet untold, story, and you can tell those stories to your community.
Stories Written
HamletStudio team makes it easy.
Vet and contact hundreds of business owners
Interview owner and write story
Publish on web
Stories Promoted
HamletStudio executes social campaign on your behalf.
Stories shared on social networks, including yours
Stories sent out via email newsletter
Stories shared by business owners, community, and you
Gratitude Received
You become a hero to small businesses and your community.
You foster a network of reciprocal relationships
Stories remind community of your value
Initiated relationship with prospect
Small business owners will deem you their local champion!
With our turnkey system, 100's of stories will be published in each community, all made possible by your company.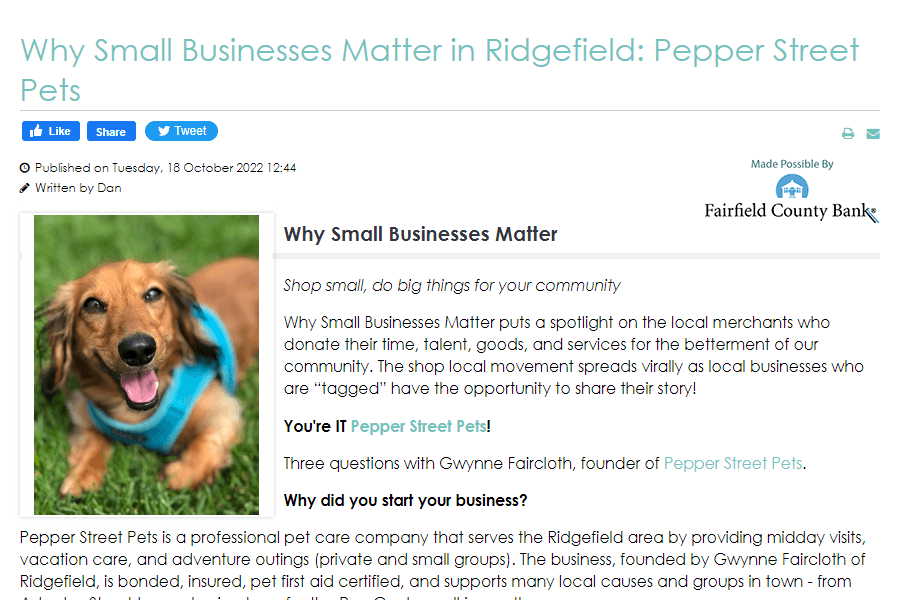 The stories are read, enjoyed, and shared because they are authentic.
We have hundreds of testimonials to show you!
Business Owners appreciate it – "No one has ever asked me why I started my company..."
Readers love it - "So interesting, and happy to learn about these valuable gems..."
Results - "The WSBM program deepens relationships with our customers and builds connections with new ones."
Biscuit and Bones
"many thanks for including Biscuit and Bones in this very important series. We are grateful and overjoyed to be asked..."
Portofino Restaurant and Wine Bar
"Thank you to HamletHub and Fairfield County Bank for the opportunity to be interviewed..."
EffectTv
"Such great partners!"
Fairfield County Bank
"We are delighted to sponsor the Why Small Businesses Matter program!"
Nancy O
"Thrilled to be selected!"
Jillin It
"This is so valuable!"
Let us explain how we can deliver 20 new relationships with business owners in each community you serve within 30 days of the start of this program